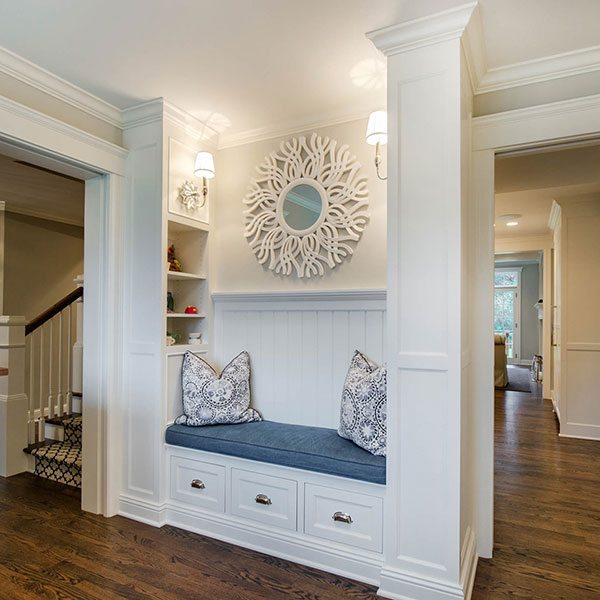 The West Shore project began when Brad and Laura found and purchased the home of their dreams. It was a good house in the right location that required some changes to fit their family and their lifestyle. Builders by Design worked with them to create a larger kitchen, a larger master suite bedroom, a more open living and family space, and add a sport court for basketball.
Work Completed:
Enhanced Entry and Living Space
Larger Kitchen
Master Suite Addition
Mudroom and Office
Great Room Addition
Special Features:
Sport Court for Basketball
Patio
Enhanced Entry and Living Space
The entry of home was enhanced to create a more open space with a view to back of home. The height of the ceiling over the stairs was increased by 12 inches.
The location of the kitchen moved from the front of the home to the back. An addition to the back of the home provided an expanded kitchen and great room, with a sitting space to take advantage of the beautiful view out the back.
The Great Room addition includes a fireplace and a sitting room with a beautiful view from the back of the home.
The addition to the back of the home expanded the Master Suite on the second floor. Steps up to the Master Bedroom allow higher ceilings in the Great Room below.
The former kitchen space was redesigned as a mudroom and office space. Doors in the mudroom cabinet pass through to the pantry on the back side.
Basement and Sports Court Addition
A new staircase to the basement brings you to a family and recreation room, with access to a new sports court two levels high. The official logo of Duke University highlights the center of the sports court.
The exterior on the backside of the house is all new. A patio and firepit were added to provide outdoor living space.
What Our Customers Are Saying
Choosing Builders by Design to renovate our dream home was the best decision we have ever made. Working with Dan Schultz and his creative floor plan designs set in motion a remodeling project that exceeded all of our expectations. The BBD cabinet shop welcomed our requests for unique cabinetry and special features. Our project manager was amazing! He made us feel like his top priority was making sure we love the results. All of the subcontractors were courteous and made it their goal to make sure our expectations were met. The best example of BBD's willingness to do whatever it takes to satisfy the customer was when BBD called Duke University to get permission to use their logo on our sport court floor. They go the 'extra mile' and it makes all the difference!
Laura and Brad
Edina