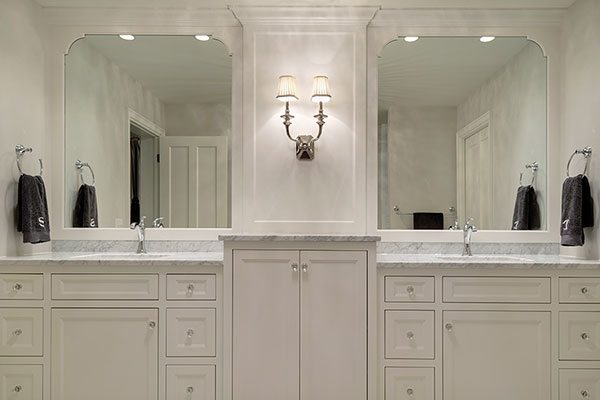 The Cooper renovation project began with goals to create a larger master suite, enlarge the kitchen, add more garage space and create an office. To accomplish these goals required a redesign of the interior space and resulted in an exterior face-lift. An outdoor fireplace and patio and a sport garage added the finishing touches.
Work Completed:
Exterior Facelift
Larger Kitchen
Enhanced Living Space
Enhanced Master Suite
Additional Bedroom / Bathroom
Office
Special Features:
Additional sports garage
Outdoor fireplace and patio
The renovation changed the house from a 1-1/2 story to a full 2 story home, while retaining its style and charm. The result increased the total square footage of livable space in the home from 4224 to 5455 square feet.
Expanded kitchen across the back of the house, enabling the addition of a kitchen island and dinette area.
The second floor expansion included adding another bedroom, bathroom and laundry room, as well as enhancing the hallway and the master suite.
Converted 3-season porch to an office. Increased the height of the ceiling, added heating and cooling and made it part of the home. The room also includes a custom desk and built-in bookshelves.
The renovation included a refresh of the existing entryway and living room.
Added a patio with fireplace off of the new dinette space, positioned for viewing from the office or informal dining room.
Added a mudroom to the entryway in the basement and cabinets for storage in the main garage.
Final touch was replacing the shed with an additional garage dedicated to sports equipment.
What Our Customers Are Saying
When we were looking to renovate our 1940's home we reviewed several builders. It seemed all roads led to Builders by Design. The Team at Builders By Design had a reputation that was stellar and our experience has only reinforced that.
Our challenge was not small. We wanted to completely renovate our home while enhancing the old home charm and street appeal. Dan and his team worked tirelessly with us on a distinct design that not only looked like it belonged on our lot and in the neighborhood but delivered on all the needs of our family.  In fact, we have commented several times that we would not change one thing … an incredible statement for any home project.
Builders By Design's expertise includes an unending attention to detail, superior craftsmanship, exceptional team and an absolute unwavering focus on service that is simply second to none. From top-notch project management to strong budget discipline, Builders By Design made the process seamless. They were all over our individual project needs and that did not end when the last check was sent.
"Builders By Design exceeded our expectation at every turn."
– Terry & Sarah
Edina